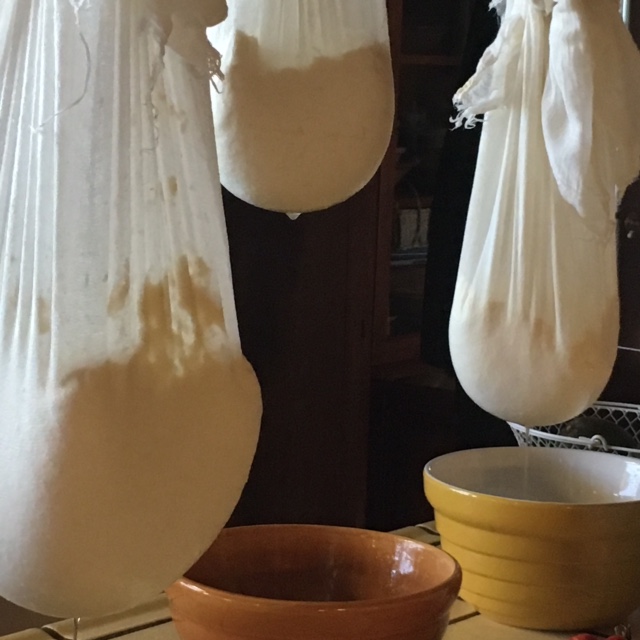 Join us for one of our workshops where we can learn, play, and make together!
Cheesemaking
It's a morning on the farm! Milking the goats begins at 8 a.m. followed by brunch and cheese making. Learn to make chèvre, the well known soft goat cheese, mozzarella, the versatile semi-hard cheese, and ricotta, an Italian favorite. Then on to the neighbor's winery for some wine tasting.
Saturday, Oct 26, 2019 (8 am - 1 pm)
Saturday, Nov 23, 2019 (8 am- 1pm)
Saturday, Dec 28, 2019 (8 am - 1pm)
Rags to Rugs
Reduce, reuse, recycle! Learn to weave sturdy rag rugs from old clothes, sheets, curtains, dated fabric, etc. In this workshop, you will work on a loom to master a traditional weaving process called twining. The class fee includes a three size set of looms to make placemats, table runners, and rugs, along with a how-to booklet.
Saturday, Nov 10, 2019 (2 - 4 pm)
Saturday, Dec 7, 2019 (2 - 4 pm)
Saturday, Jan 4, 2020 (2 - 4 pm)
Reservations
To reserve your place in the next workshop, email me at janetlocey@gmail.com.
Cheesemaking Workshop $100.
Rags to Rugs Workshop $197.
Please let us know of any special requests or accommodation requirements. Or schedule a special workshop for just you and your friends, we can accommodate parties ranging from 4 - 6 people, adults only.